Not only is The American hand rolled in the United States with American heirloom tobaccos, but all of the materials used to make and package The American come from the United States as well.
.• Wrapper tobacco grown in Florida
• Binder tobacco grown in Connecticut
• Filler tobacco grown in Connecticut and Pennsylvania
• Cigar molds made Florida
• Cellophane tubes made in Pennsylvania
• Boxes designed and made in Florida with wood from Ohio, ink from Illinois, and hinges from Massachusetts
• Labels and bands design in New York and printed in Florida on paper from Wisconsin and ink from North Carolina
• Inside booklet designed and printed in Florida with sketches drawn in Massachusetts on paper from Wisconsin and inks from Florida
Introducing The All-American Cigar
In 1895, my great-grandfather, Julius Caeser Newman, founded our family business. Four generations later, the J.C. Newman Cigar Company is the oldest family-owned cigar company in the United States of America. There are many old, multi-generational family businesses in the premium cigar industry. What sets us apart is
that J.C. Newman Cigar Co. is the oldest family-owned premium cigar maker in the United States.
As we began approaching our company's 125th anniversary, my wife, Ariel, had the idea to create an all-American, handcrafted cigar – something that had not been done for decades. Her vision led to this project. The American was the first cigar rolled in our "El Reloj" factory in Tampa, Florida when it opened in 1910. To celebrate
our company's 125th anniversary, we have relaunched this historic cigar brand.
What makes The American unique is that it is the first 100% all- American cigar. From the tobaccos to the cigar molds to the boxes, labels, and cigar bands, everything about this very special cigar is made in America.
This project speaks to the heart of who we are: a four-generation American family business still owned and operated by the founding family. When you light up The American, you are celebrating the centuries-old tradition of handcrafting premium cigars in America.
About Ybor City and El Reloj 
Traditionally, each Tampa cigar factory had a nickname. Our factory is known as "El Reloj," which means "the watch" in Spanish, because of the factory's six story clock tower. Neighbors used the clock tower and its large bell to tell time and as a signal for when to go to work or school, to return home, and to go to sleep.
In 1951, the Regensburg company that built El Reloj went out of business. Two years later, my great-grandfather fell in love with the building and bought it and decided to relocate his family and cigar business from Cleveland, Ohio.
Today, we roll two types of cigars in El Reloj. First, skilled cigar rollers use hand-operated, antique cigar machines from the 1930s to roll value-priced cigars. Additionally, we roll The American and other cigars entirely by hand.
In the middle of the 19th Century, cigar makers fled Cuba and settled 90 miles to the north in Key West, Florida. In 1885, Vicente Martinez Ybor moved his cigar factory from Key West to what was then an undeveloped area north of the small town of Tampa. Soon, others followed
and the new community became known as "Ybor City."
Within a few years, the cigar industry transformed Tampa into the largest city in Florida. At its peak in the early 20th Century, Tampa had more than 150 cigar factories and 10,000 cigar workers who rolled more than 500 million cigars a year by hand. Tampa was internationally known as the "Fine Cigar Capital of the World."
When El Reloj opened in 1910, it was heralded as the largest and finest cigar factory in the world. It was designed for 1,000 cigar workers and built at a cost of $75,000. It has a red brick exterior with wooden beams, a sloped slate roof, and a distinctive clock tower. Like most cigar
factories in Tampa, the factory has three floors and a basement, runs east and west, and is 50 feet wide. It has tall ceilings and large windows to maximize the amount of natural light.
The American cigar brand was created in the 1880s by E. Regensburg & Sons, a well known cigar company in New York City. These cigars were first rolled at Regensburg's cigar factory on Canal Street in Lower Manhattan. By the end of the nineteenth century, The American had become very famous.
In the early 1900s, the Regensburgs decided to move their operations from New York to
Tampa, Florida because Tampa had become internationally known as the "Fine Cigar Capital of the World." They built the "El Reloj" cigar factory in Tampa's Ybor City cigar district. When El Reloj opened in 1910, The American was the first brand of cigars rolled in our factory. More than a century later, we have recreated The American's original shield and cigar band from the late 1800s.
About the Flag in the Shield
With The American, we have recreated the original shield and cigar band from the late 1800s. Many have asked why The American's shield includes the Puerto Rican flag. Like Cuba, the Dominican Republic, and other Caribbean islands, Puerto Rico has a rich tobacco heritage. Puerto Rican revolutionaries exiled in New York City created a flag similar to Cuba's to support their campaign to liberate the island from Spanish rule. In support of this fight for independence, this flag design was incorporated into The American shield and cigar band when the brand was created in the late 1800s. Puerto Rico adopted this design as its official flag many decades later in 1952.
Brick House Beginnings – TAA Exclusive Original Aged Blend
This cigar, inspired by an old cuban tradition of cigar rolling, is the newest addition to the J.C. Newman Cigar Co. portfolio of cigars.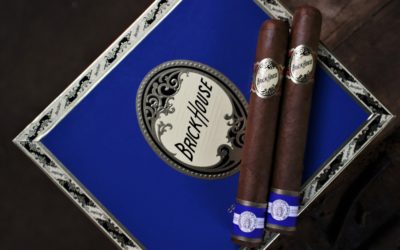 Brick House Ciento por Ciento offered as TAA exclusive.