When we sat down to plan out the props we should use in these photos, Tropical Storm Fred was making his way through the Caribbean. The cone of uncertainty put his trajectory up through the Gulf of Mexico. It would turn out to be nothing more than a quick shower, but the threat loomed in the distance.
Tampa has had its fair share of storms, most of which skirt by, subjecting our citizens – luckily – to limited damage. We've learned to prepare, but shrug, when another storm starts brewing in the Atlantic, avoiding calls from friends and family urging us to evacuate. Every time a Florida Man strikes, a tropical storm gets its name.
That's why it was so peculiar when Tyler Storms (capital S on this one) made landfall at J.C. Newman just three short years ago. The impact has been nothing short of incredible.
Storms is an artist and graphic designer at J.C. Newman and has been responsible for much of the art on the cigars you enjoy every day. The American, Yagua, and Perla del Mar. Just to name a few.
Storms settles onto a stool in one of the beautifully restored factory bathrooms to cut and light his cigar. I open Spotify on my phone and select Smokin In the Boys Room. It gives us a comedic relief moment.
"I'm out of my comfort zone here but this helps." I've asked him to model – to look this way, look that way, smile more, smile less. He's used to being in control of the final product and that just isn't the case here.
We switch the music to LoFi hip hop. Clair de Lune by Orange Stick is Storms' selection. "The original by Claude Debussy is my absolute favorite song, but this one is just as good." So flippant. He loosens up enough for me to ask questions about what inspires him to bring his designs to life.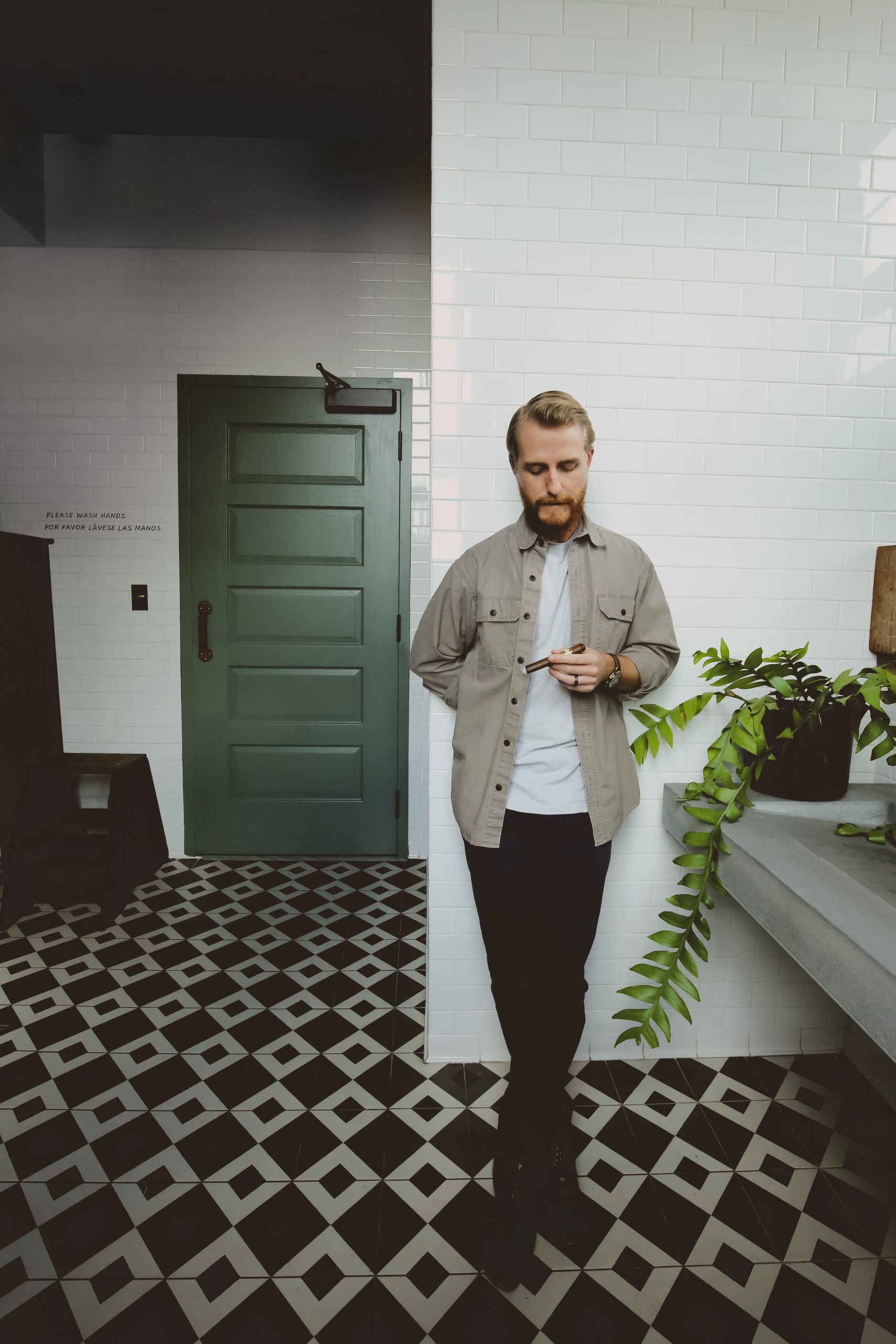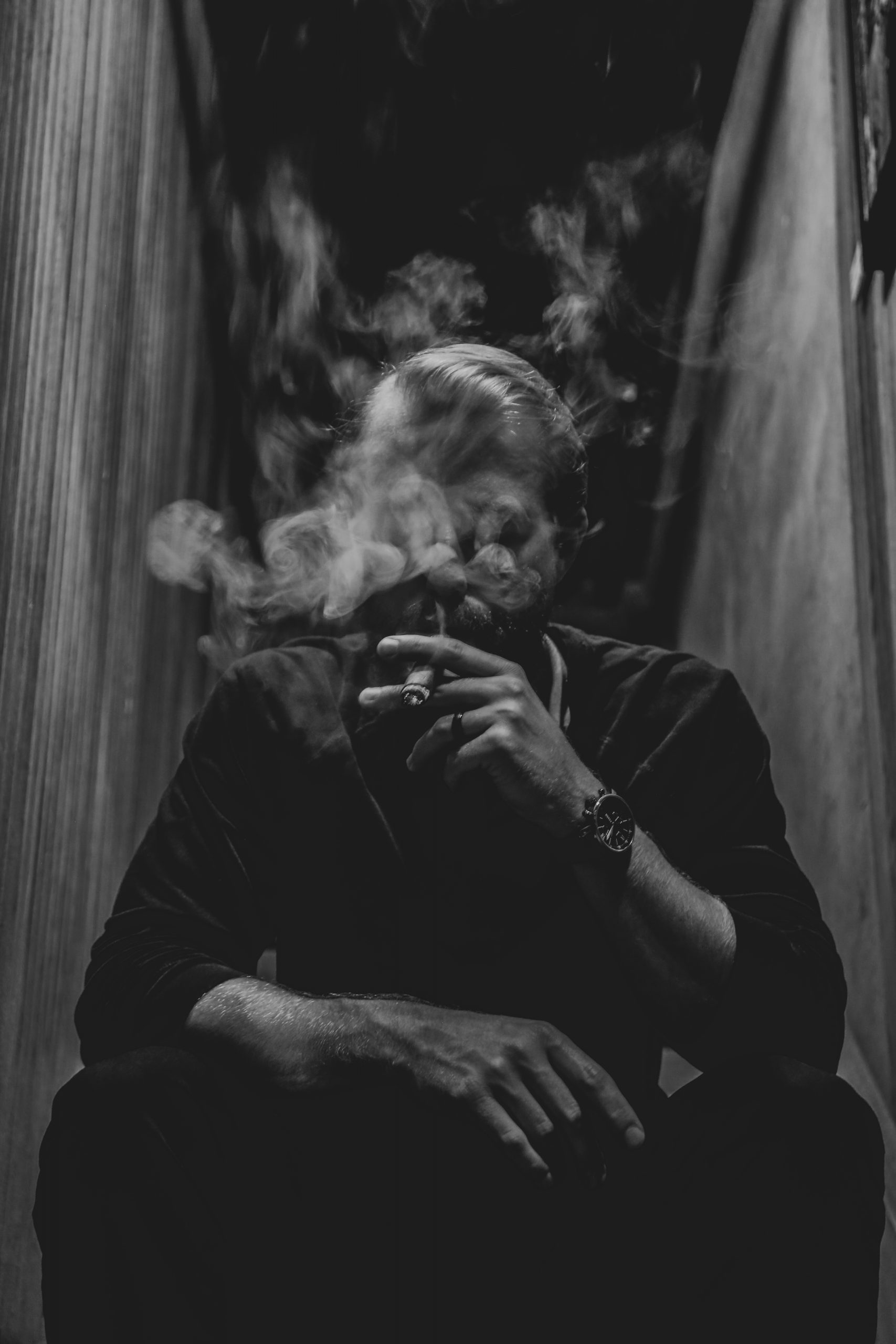 "First I think, 'What would I want? Does this appeal to me personally? And then I put myself in someone elses' shoes. What's the first impression [when they walk into the humidor]? When someone smokes a cigar, they're using all their senses. Touch, taste, smell, sight…I want the whole experience to be cohesive, to engage and delight.'" He says this as he stares down at his Perla Del Mar cigar and then chuckles. "I smoke the cigars I design for, but I mean there's no flavor that makes me say, 'Hey this tastes like red' so it's a lot of looking through Pinterest, our archives [at the factory] and Frankenstein-ing ideas. Each creative project has its own unique set of challenges, therefore each has its own unique process."
Storms is also in a particularly lucky position working out of El Reloj, our 111-year-old historic cigar factory. The Newmans have saved everything – boxes, labels, bands, newspaper clippings – and so there's no shortage of inspiration. The faces of the clock on our historic tower have fallen victim to a number of hurricanes, but the fortress that is the factory has kept our records neat and clean. We travel to the basement for our next round of images – it's also where all our archives are kept.
Perla Del Mar – Looking to the past is important in a lot of design work and it was especially influential during Storms' creation of Perla Del Mar. "I love the vintage look of everything, so this is a good industry for me to be in. Modern design is just…everyone can do it. The vintage look takes a lot of work.  In the beginning, I was simply tasked to update the old packaging by colorizing the label. After several reviews, we all felt that this simply wasn't enough. The old Perla Del Mar wasn't lining up with our company brand."
While many of us on the team agreed that we shouldn't stray too far from the core of PDM, it did need to be elevated.
"Rescuing the original word-mark from the antique Perla Del Mar label, maintaining the current illustration on the label, and developing a new band created this fusion of past, present, and future. It was exciting and daunting. This project was certainly a big challenge."
On hearing the word "challenge" I'm inspired to hand him a parenting book as a prop for another photo. This image wouldn't make its way to the final blog post.
"I feel silly. This isn't natural." He means the pose, not parenting, but it does open another topic of conversation.
Last year, Storms and his wife Rachel welcomed their son Wes to the world, and he tells me how having a baby changes his creative process.
"It's changed everything. I [used to] to spend a lot of time in decision making because I'm a thinker but now every choice I make – I feel it has to happen more rapidly."
"I would also say that how you do one thing, is how you do everything. I was always passionate about being a good man, husband, and father. I have always been passionate about art and design. In both areas of my life, I always strive to do my very best and I always ask myself, 'Did I give it my all, and how can I improve?'"
We move away from the book picture quickly to something more natural and talk about creating something from scratch.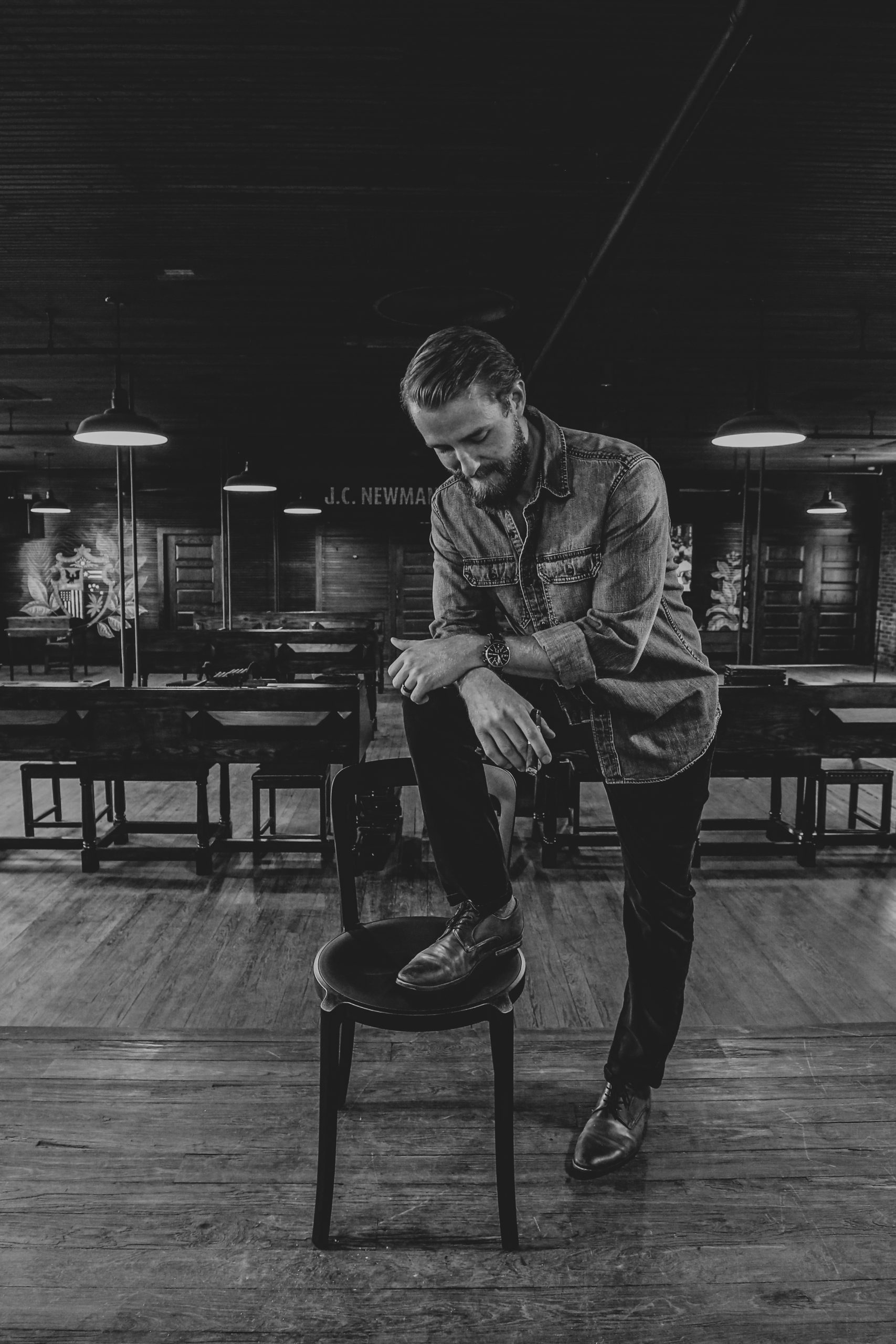 YAGUA – "This authentic and inspiring story called for an authentic design."
While the story of Yagua is old (you can read all about Lazaro Lopez and his grandfather on our Yagua page), the design was new. This was a unique challenge and one Storms was not going to take lightly.
"The cigars were handmade and rolled with raw materials. There wasn't any pre-made source to aid in the cigar-making process. A truly rustic approach…so I challenged myself to echo this idea into a rustic handmade design."
"When developing the packaging, it was essential to look to the past. Developing the logo, my inspiration came from typography and cigar brands of the early 1900s…we knew this band had to feel traditional."
Storms climbs into a lounge chair as he talks through the hand illustrations he scribbled away at for the Yagua word-mark, Cuban palm tree on the box, and filigree ornamentation on the band and label. We snap a few photos and he adjusts his posture. "Can we get one where I'm sprawled out?" Evidently, we've taken enough photos for him to become comfortable and start calling the shots.
We're momentarily joined by Nik Psilopoulos, our third-floor cigar production specialist. He pops in with a few questions from a different perspective, which allows me a break from playing journalist to just take photos.
N: What's it like working on an art form that used to be performed with stones?
T: Stone lithography [chuckle]. Well it's nice because that was painstaking, and there wasn't a ton of room for mistakes – with technology I get to make all the mistakes I want. Storms wipes an imaginary drip of sweat off his forehead and continues. Although I will tell you a lot of times my first idea is my best idea and I'll build off that. It either comes our great the first time or I have to scrap it and start all over."
A very timely rain shower begins outside, and casts a moody light through the abundance of windows in the handrolling room. An air of nostalgia hits and I ask Storms about his very first "big project" at J.C. Newman – The American.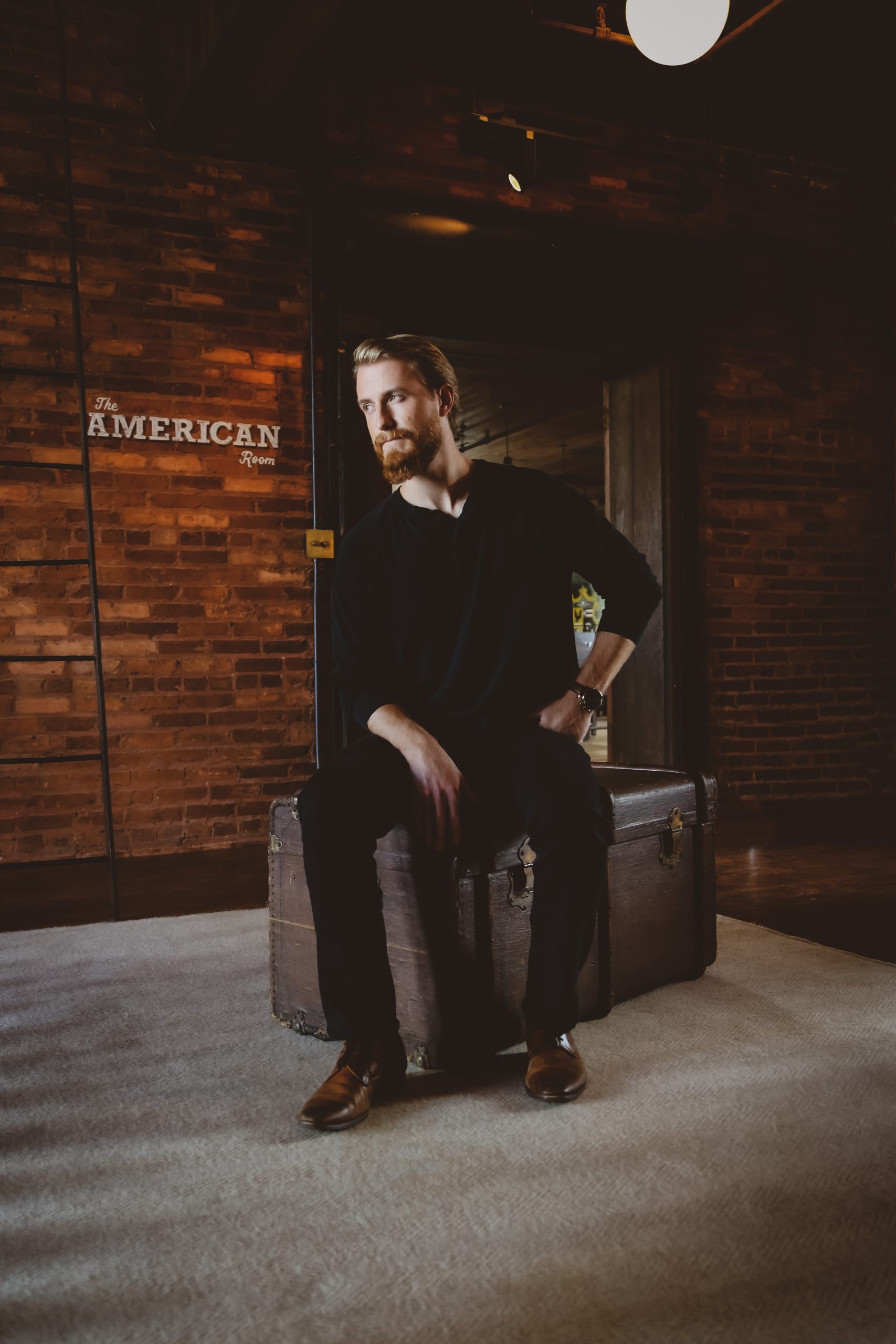 The American – "I knew immediately, this was a very special project. It was my first year at J.C. Newman. It made me think, 'What an authentic story to be told, and what an honor it is to be a part of it.'" Tyler's particular brand of modesty served him well during this project. The American was, after all, a band, label, and edging that was already in existence, and the cigar was Drew Newman's creation.
Storms was tasked with developing the box design, the Guarantee Seal, "The American Story" booklet, The American Map poster, and more.  The set of challenges here had to do with the 100% American piece. The vision had to work within the constraints of American colors, American plates, American paper, American wood.
"At The American Launch Party, I really saw this brand come to life…I witnessed everyone become delighted, true fans of our craft. That is my goal as a designer, to cultivate a memorable brand experience."
Nik popped back in with the perfect question to round out our interview as the rain tapered to a halt.
N: What's it like working for the Newmans?
T: I love that Drew and the Newman' stay true to the heart of who they are and cigar making in general. They don't stray far from tradition and maintain authenticity. To be a part of something that's been around a century and continue that tradition is special. Its impacted the lives of so many people in the past, and to be included in it today is an absolute honor.
N: You're an important piece of this though, too. You're not necessarily the meat of the sandwich but I do feel like you're the lettuce – you're the crunch.
Tens of thousands of people, cigar enthusiasts and the like have passed through our doors…and some…may have never left.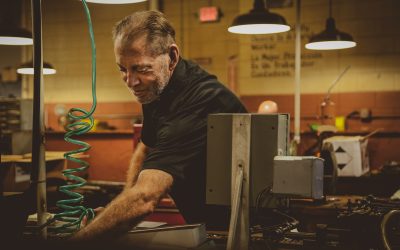 There is only one Joe St. Charles. He's maintenanced the cigar machines, and fabricated parts for those that are no longer being manufactured.
Aimee Cooks is the Human Resources and Tampa Cigar Factory Manager, but her role in cigar making is bigger than her title.