Brizard and J.C. Newman Introduce The American Black Bison Cigar Case
The limited-edition luxury cigars and case are both handcrafted in the United States
Tampa, Fla. — In celebration of Independence Day, Brizard & Co. and J.C. Newman Cigar Co. are introducing The American Black Bison Cigar Case.  This three-finger cedar-lined luxury cigar case is handcrafted in California by Brizard with genuine American Bison leather from Ted Turner's Bison herd in Montana.  Each case contains three vintage three-year-old The American Robusto cigars, which were rolled with 2018 Florida Sun Grown wrapper in J.C. Newman's historic El Reloj cigar factory in Florida.  This is a limited edition of 350 cases with a suggested retail price of $350. 
"One of the fundamental requests from J.C. Newman was to have, like the cigar, a 100% American made product," said Cyril Brizard.  "Bison leather is supple, with many characteristics ranging from natural wrinkles, pebble grains and is four times as resistant as regular cow leather."
"I am very proud that The American Black Bison Cigar Case is a 100% American luxury product," said Drew Newman.  "Bison is an iconic American animal.  Because it is handcrafted in America with American components, this case honors the history of the United States and the tradition of American cigar-making."
Brizard further described the case as follows:
"This three-finger cedar lined case is very masculine yet elegant and packed with understated details that make it so unique. The black bison leather is trimmed with a handmade thin red leather pipping. Inside the case, the edge of the cedar lining is trimmed with The American cigar boxes original cigar box edge strips featuring The American logo. This can only be seen when the case opens. At the base, a polished brass plate features a laser engraved The American logo and a Bison silhouette. On the lower part, an oblong shaped matching brass plate features the serial number ranging from 1/350 to 350/350. After being hand polished and engraved, both plates are sealed with a special brass lacquer used on musical instrument which prevents it from tarnishing over time. The case includes two solid Spanish cedar dividers which have multiple functions; they add structural rigidity, separate three cigars and while seasoned help retain humidity inside the case. Like all Brizard & Co cases, The American Bison case has a tight fit between top and bottom parts in order to ensure optimal seal and ideal humidity. The cases although very light are made mounting the leather of thin galvanized steel plates in order to have structural rigidity and prevent accidental crushing of cigars. They can fit up to three 60 ring gage cigars and can open to different lengths."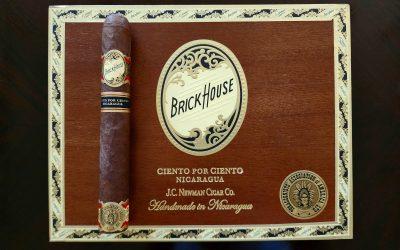 Brizard and J.C. Newman introduce The American Black Bison Cigar Case. The limited-edition luxury cigars and case are both handcrafted in USA.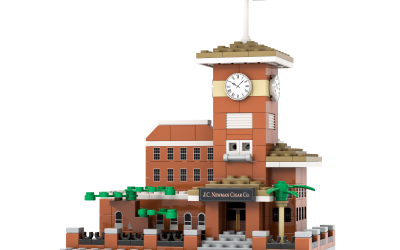 J.C. Newman Cigar Co. Introduces the El Reloj Set 201 LEGO Bricks Build a Replica of the Historic El Reloj Cigar Factory in Tampa Tampa, Fla. – This week J.C. Newman Cigar Co. will be introducing the El Reloj Set at the Premium Cigar Association Trade Show in...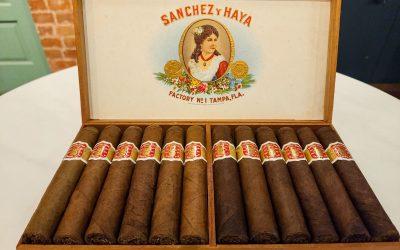 In celebration of the anniversary of the 1st cigar hand rolled in Tampa, J.C. Newman has recreated the original Sanchez y Haya cigars.