My family's partnership with the Fuentes began in 1986 with the launch of La Unica, our first cigar handmade at Tabacalera A. Fuente in the Dominican Republic. This was followed by the introduction of Cuesta-Rey and our Diamond Crown cigar brands. In 1990, our partnership deepened with the formation of the joint company now known as Arturo Fuente Cigar Company, which distributes Arturo Fuente cigars in the United States.
Because of our close relationship with the Fuentes, my father, Eric Newman, and grandfather, Stanford Newman, would frequently fly down to the Dominican Republic. They went there to meet with Carlos Fuente, Sr., and his son Carlito and to blend and develop new cigars together.
When I was nine years old, I convinced my father and grandfather to take me along with them on to see the Fuentes. I still do not know why they agreed to let a nine-year-old tag along, but I absolutely loved the trip and the experience of traveling with my father and grandfather.
This first trip was the start of an annual pilgrimage for three generations of Newmans. Over the next decade, my father and grandfather planned their March trip to the Dominican Republic around my school's spring break schedule so that I could travel with them each year.
On the flights from Miami to the Dominican Republic, I remember looking out the window and being amazed at how the color of the water changed from dark blue of the Atlantic Ocean to the beautiful turquoise of the Caribbean. Because the Santiago airport had not yet been built, we flew into the resort town of Puerto Plata. While everyone else on the plane was dressed as if they were destined for the beach, my father and grandfather wore coats and ties. At the airport, we were greeted by Carlito who picked us up in his car and drove us across the mountains to Santiago.
As a young kid, I remember the Dominican Republic as a lush, tropical oasis where everything felt foreign. Not only did everyone speak a different language, but the food, music, and even the driving habits were nothing like home.
On my first trip, I remember walking into Tabacalera A. Fuente and being surprised at how different the Fuente cigar factory felt from "El Reloj," my family's historic cigar factory in Tampa. It was large and bustling and, to a small child, the Fuente factory felt like a maze full of adventure.
The bouquet of aromas of the Fuente factory left a strong impression on me. I remember being surprised at how the factory did not have a single smell, but rather different aromas in different rooms due to the various tobaccos being used. More than once, the smell of fermenting tobacco was so overpowering, that I had to run outside to find fresh air.
The days were very long on these trips. Carlito would pick us up from the hotel after an early breakfast and we would not return until after a late dinner at night. The hardest part of these trips for me was that Carlos, Carlito, Stanford, and Eric would frequently work through lunch – frequently forgetting to feed me, too.
During the day, when the grownups were reviewing spreadsheets that I did not understand, I would often sneak away and wander through the factory on my own. I remember being mesmerized at how the cigar rollers would swiftly roll each cigar, one by one, to the beat of the Dominican merengue playing from the speakers. At least once per trip, I would get lost in the Fuente factory and someone would have to help me find my way to the front office.
On my third trip when I was 11 years old, we visited the tobacco farm that would later become known as Chateau de la Fuente. At that point, there was nothing there other than tobacco and barns. This was long before the gazebos, Hemingway House, and other facilities were built. The farm was pretty rugged. At the end of the day, I remember the adults lighting up a prototype cigar made from special tobacco from the farm. Unfortunately for me, the only refreshments that the adults brought with them were ice-cold Presidente beer and Brugal rum. No one had thought to bring water or something else for me so I had to just sit there until they finished their prototype cigars.
One of the things that sets the Fuente and Newman families apart from other cigar companies is that we are two, four-generation family businesses.  Both of our families have been passing the family tradition of handcrafting premium cigars from generation to generation for more than 100 years. 
When my grandfather passed away in 2006, our three-generation trips to visit the Fuentes in the Dominican Republic ended.  Today, however, I am fortunate to be able to continue traveling with my father, Eric, and my uncle, Bobby, to see the Fuentes in the Dominican Republic and our factory in Nicaragua, and to help promote and sell our family's cigars around the world. 
"It is very special working in a family business. One my proudest moments in our company was at the RTDA (now IPCPR) trade show in 2005. One afternoon, my father, Stanford, and son, Drew, and I decided to walk around the show. As we passed one booth, I overheard another exhibitor say to someone else, "Wow – there goes three generations!" Hearing this filled me with pride and made me feel very grateful to be able to share our family tradition with my father and my son." – Eric Newman.
Tens of thousands of people, cigar enthusiasts and the like have passed through our doors…and some…may have never left.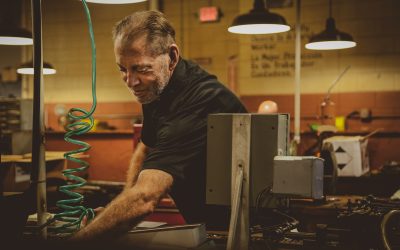 There is only one Joe St. Charles. He's maintenanced the cigar machines, and fabricated parts for those that are no longer being manufactured.
Aimee Cooks is the Human Resources and Tampa Cigar Factory Manager, but her role in cigar making is bigger than her title.