Last night, Eric, Bobby and Drew Newman, were awarded the 2021 'Gonzmart Family Tourism Ambassador(s) of the Year' by Visit Tampa Bay. 
During the award reception, many Tampa Bay area individuals and business owners were recognized for their contributions to the tourism industry. Speeches from Mayor Jane Castor and Visit Tampa Bay President and CEO Santiago Corrada highlighted the achievements from this past year.
Visit Tampa Bay reports its first-ever $4 million in the month of May in the history of its tourist development collections. May collections, reflecting April, totaled $4,001,405, a 22.05% increase over the previous record set in May 2019. This takes tourist development collections for the first eight months of the fiscal year to $21,685,010, a 12.67% decrease over the same period in the previous year. 
In the month of April, Tampa Bay occupancy ranked ahead of the national and State average with the U.S. totaling 57.5%, the State totaling 71.5% and Tampa Bay totaling 77%. And despite having more hotel supply than ever before, leisure business ramped up for Memorial Day Weekend (Friday through Monday visitation) averaging 80.6% hotel occupancy in Hillsborough County, a 13.5% increase over the same holiday period in 2019. 
Visit Tampa Bay's recovery campaign has generated 83.1 million impressions, bringing in $50.3 million in incremental hotel bookings since October. The growth continues in the meetings sector as Tampa Bay continues to host high-profile meetings such as Destinations International's CEO Summit and the upcoming Connect Marketplace in August, along with a dozen relocated meetings from larger cities.
Over the past few years, the J.C. Newman Cigar Company factory, El Reloj has been undergoing a massive restoration project. We opened our doors to the public last October, and have been welcoming in guests to learn about the tradition of cigar making, and the role that cigars played in building Tampa into the city that it is today.
J.C. Newman employees and friends of the family gathered in our historic, 111-year-old factory, to give personal testimonies about the Newman's, and their strides to keep the history of Cigar City alive. You can see that video below:
Upon receiving the award, Eric Newman said, "I'm really touched, overwhelmed…on behalf of the 150 members of our family we want to say 'Thank You.' This is not only for the Newman family…it's for the city of Tampa. My grandfather [Julius Caeser Newman] made the decision to move our family to Tampa in 1954, and that was the greatest decision of my life."
"My father, uncle, and I were surprised, humbled, and grateful for this recognition," said Drew Newman, general counsel and fourth-generation cigar maker.  "It is our sincere privilege to keep Tampa's cigar-making tradition alive and teach future generations about how important the cigar industry has been to this history and culture of Tampa."
Tens of thousands of people, cigar enthusiasts and the like have passed through our doors…and some…may have never left.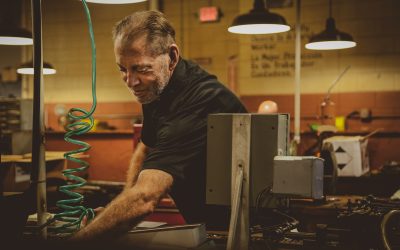 There is only one Joe St. Charles. He's maintenanced the cigar machines, and fabricated parts for those that are no longer being manufactured.
Aimee Cooks is the Human Resources and Tampa Cigar Factory Manager, but her role in cigar making is bigger than her title.