Starý Koronč ("Old Koronch") Vignette
J.C.'s hometown of Koronč was absorbed by the local town Trebišov sometime in the 20th Century. However, the legacy of the Newmans lives on with the "Dom Cigar" shop in the city of Košice, Slovakia. (Pictured above). The owners of "Dom Cigar," Miro and Maros Bajtos, are proud to have their own family business, just thirty miles from where Julius Caeser Newman was born.
Julius Caeser Newman was born in the sleepy Hungarian town of "Koronch," Galicia (modern day Eastern Slovakia) in the Austro-Hungarian Empire on May 26, 1875. He was the son of a traveling Talmudic scholar and a tavern keeper. At his mother's cozy brick house, guests from dozens of ethnic and religious backgrounds were entertained and treated as equals. Twenty small houses clustered around fields and pastureland comprised the village of Koronč. Julius Caeser Newman's ancestors probably migrated to Koronč from Germany to work as teachers or mine foremen. The region was home to a people who faced famine and economic hardship with a remarkable tenacity. 
The surname Newman is an Anglicization of the Germanic "Neuemann." Beginning in 1783, the Austro-Hungarian Empire began "integrating" various ethnic minorities with the adoption of German surnames. They literally became new men, as Jews were simply not afforded the same rights as ethnically German Roman Catholics.
Their loyalty to the Emperor during the political upheaval of 1848, however, caused a change of heart. Loyalist Rabbis encouraged Jewish men to join the national guard. As a result, the Emperor exempted them from war taxes and instead allowed them to pay into funds for specialized educational and religious institutions. Julius Caeser Newman would later attend one of these Jewish schools. Julius Caeser Newman recalls in his autobiography, "Smoke Dreams." The chilly January mornings where he and all the other school children would express their national unity by singing the national anthem of Hungary for the Count's wife while she smoked a cigar.  
As the son of a traveling scholar and an innkeeper, Julius Caeser Newman did not have a wide range of social mobility. Additionally, young male citizens were required to serve in the military for three years with a ten-year reserve billet.
Had he stayed in the Austro-Hungarian Empire, he would have been forced to enlist and aid in the occupation of Bosnia and Herzegovina, then likely spend the remainder of his days as a small tenant farmer in an increasingly anti-Semitic country. And so, right after his graduation from primary school in 1889, Julius Caeser Newman immigrated to the United States, leaving behind the family brick house in Koronč, he became a new man in the United States.
Dom Cigar offers premium hand rolled cigars, such as J.C. Newman Diamond Crown or Brick House, to Slovaks who just might be the descendants of weary travelers who stopped to stay at the Newman family tavern. 
Indeed, the store is dedicated to the man and features his portrait on a wall next to various J.C. Newman brand plaques! Today, the estate of County Andrássy is a cultural museum in Trebišov and the village of Koronč is intact, though still quite small; it is now a place where people have gardens, but do not reside. A few brick houses remain, built on a small creek that runs through the village, though the exact brick house of J.C.'s past is no longer there.
It only took 130 years, but with the help of Miro and Maros Bajtos, the Newmans returned to their ancestral home.
Tens of thousands of people, cigar enthusiasts and the like have passed through our doors…and some…may have never left.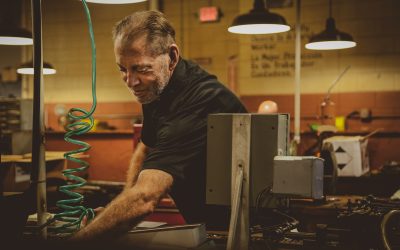 There is only one Joe St. Charles. He's maintenanced the cigar machines, and fabricated parts for those that are no longer being manufactured.
Aimee Cooks is the Human Resources and Tampa Cigar Factory Manager, but her role in cigar making is bigger than her title.