THE AMERICANS
Keeping Tampa's Legacy Burning
In the newest edition of Cigar Snob, you'll find a great many interesting pieces, including a 92 rating on our Black Diamond Marquis cigar. But featured in the center is an amazing article on the four generations of Newman men, and how their legacy has continued throughout the years.
Cigar Snob author Steve Miller explores the roles each Newman has played in the success of the company. He also details a look to the future, and everything amazing in the years to come at J.C. Newman Cigar Co. and for Cigar City, Tampa, Florida.
Read the entire article by clicking below, and don't forget to pick up your copy of Cigar Snob, wherever fine cigar publications are sold.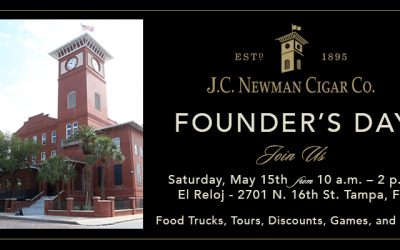 Help us celebrate our many milestones at J.C. Newman Founder's Day!
Our factory, El Reloj, is turning 111-years-old, and we want you to help us celebrate! Join us on Wednesday, March 31, for free tours.
Native Tampans know a thing or two about criminal elements in Ybor City in the early 20th Century. Ybor City's criminal underbelly was reflective of the economic and cultural divides of the city.