J.C. Newman Celebrates Founder's Day
J.C. Newman Cigar Company is excited to host our first 'Founder's Day' celebration at our cigar factory, El Reloj, in Tampa, FL.
Join us on Saturday, May 15th from 10 am – 2 pm for tours, food trucks, lawn games, entertainment, and factory store deals. This is a family-friendly event and we're excited to host you all.
While our normal hours are Monday – Friday, 9 am – 5:30 pm to accommodate our cigar staff, we wanted to give the public an opportunity to see our recently completed factory restoration project and experience the history of cigar city while celebrating many of our own milestones.
May 5th is the day J.C. Newman Cigar Co. was founded, and May 26th is Julius Caeser "J.C." Newman's birthday, so we're wrapping them both up into one large celebration with local vendors.
Food will be available from food trucks Calicatessen, Street Surfer, Kona Ice, and Commune and Co. Coffee. Alcoholic beverages will be available for purchase and poured by Spunky Spirits. If you want to book a tour, you can do so at this link: https://www.jcnewman.com/visit-us/
To be mindful of COVID-19, the tours will be for up to nine guests only, and six tours will be available throughout the day. The tours will fill up fast. To ensure your space, we encourage you to book online ahead of time.
The museum is free and will be open to the public for exploring for the entirety of the day, but we do ask that if you purchase a cigar, you smoke it outside on one of our available tables – ashtrays will be provided! Be sure you are following us on Instagram to get 10% off your purchase in our museum and factory store.
Parking is free and available across the street on Columbus Ave.
If you have any questions about this event, you can reach us at our Contact Form!
We can't wait to host you as we celebrate the founders of America's oldest, family-owned, premium cigar maker!
Tens of thousands of people, cigar enthusiasts and the like have passed through our doors…and some…may have never left.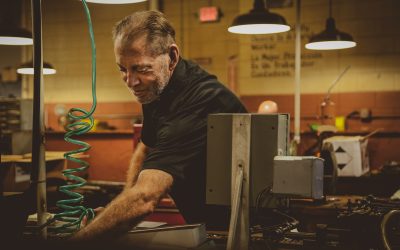 There is only one Joe St. Charles. He's maintenanced the cigar machines, and fabricated parts for those that are no longer being manufactured.
Aimee Cooks is the Human Resources and Tampa Cigar Factory Manager, but her role in cigar making is bigger than her title.