As J.C. Newman continues to archive old documents, cigar boxes, and pieces of history for the newly renovated museum, there are many artifacts worth sharing. One such piece is an issue of the publication 'The Tobacco Leaf,' from February 20, 1908. This issue contains many J.C. Newman features, including an advertisement for The American cigar, pictured above. 
What's most notable about each of the artifacts we are archiving is how J.C. Newman Cigar Co. has created such a legacy. The pre-World War I era was truly the "Heyday of Cigars," and all 42,000 cigar manufacturers were hustling to compete. Today, every single one of the cigar manufacturers who advertised in this 1908 trade journal is out of business – all but one: J.C. Newman.
Read about each of the features of this issue below, and click the button at the bottom to download the full edition.
Page 8: A piece on Fred Thrall, a Connecticut farmer whose descendants sell J.C. Newman the Connecticut Shade we use for Brick House Double Connecticut.
Page 38: A piece on a company called "Klafter and Sauber" and their distribution of "Judge Wright, of the J.C. Newman Cigar Co. cigars."  This is J.C. Newman's oldest customer, Klafter's, and is still run by Sam Klafter's descendants today. This partnership has lasted over 112 years.
Page 38 Continuation: The author writes, "J. C. Newman, of the J. C. Newman Cigar Co., is invading the far West territory. He went out on a trip that will last about four weeks. He has more than one brand to show, but he will devote his attention principally to Judge Wright, a nickel brand, which he is making his leader. "J. C." is an industrious young man, and he succeeded in making this brand well known in this and neighboring States. It can be taken for granted therefore that the Judge Wright will be come well known in that part of the country that he is exploiting now for the first time."
Page 41: An ad for The American – with the same seal that we use today.
Page 45: An ad for Judge Wright cigars.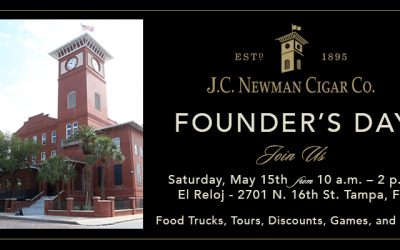 Help us celebrate our many milestones at J.C. Newman Founder's Day!
Our factory, El Reloj, is turning 111-years-old, and we want you to help us celebrate! Join us on Wednesday, March 31, for free tours.
Native Tampans know a thing or two about criminal elements in Ybor City in the early 20th Century. Ybor City's criminal underbelly was reflective of the economic and cultural divides of the city.