The annual International Premium Cigar and Pipe Retailers Trade show took place June 28 – July 1 at the Sands Expo Center in the Venetian Resort, Las Vegas, NV.
The Arturo Fuente and J.C. Newman booth, holding strong at 18 years old, offered our retail partners a chance to meet with their Regional Sales Managers, and their favorite Fuente/Newman family members.  
This trade show also gave us the opportunity to showcase our new products, and discuss our plans for our 125th company anniversary, coming up in 2020. 
Day 1: J.C. Newman's newest cigar; The Yagua
The Yagua was on display in the J.C. Newman booth, to drum up interest. Though this cigar is not for sale just yet, the project is merely months away from shipping.
The Yagua is a cigar from yesteryear. The idea was taken from a story, told to Drew Newman by the J.C. Newman PENSA Factory Manager, Lazaro Lopez. In Cuba, Lazaro's grandfather would grow, harvest, and cure tobacco. When he wanted to smoke a cigar, he would roll the tobacco into a cigar shape, but without the use of molds, he had no other choice but to use what was at his fingertips. In this case, it was the frond from a Yagua tree (a type of royal palm native to Cuba). The result was a bundle of beautiful, albeit misshapen cigars.
The new Yagua is rolled with this same methodology, but with some updated technology. Though these cigars will all be the same length, the exact size won't be able to be determined, as each will skew slightly.
On Day 1, our retail partners had an opportunity to hear about this story, then be entered for a chance to win dinner and gambling on us! The winner was Executive Cigar Lounge in Melbourne, FL.
Day 2: New Diamond Crown and Craftsman's Bench Accessories 
Day 2 (Sunday) of IPCPR gave our retailers the chance to ask us about our new line of Diamond Crown accessories, namely, the Havana Series of humidors.
The Havana Series is inspired by the vivid colors of Havana. These limited-edition humidors are perfect for those who enjoy a little Cuban flair. They are built with the same unmatched craftsmanship as our Diamond Crown Humidor Series Line and are only available in a 75-count size.
Only 150 humidors were available in each color, and by the end of the trade show, we had completely sold out! Consumers; contact your local diamond crown lounges and Brick and Mortar stores to get your hands on one of these!
When retailers asked about The Havana Series of Humidors on day 2, they were entered to win one of each color of these humidors, as well as each of the new ashtrays from Craftsman's Bench and each of the two new Diamond Crown Ashtrays (pictured below). The Sunday winner was none other than Tinder Box Rapid City!
Day 3: The American and 125th Company Anniversary
The American has been a cigar that's caught a lot of attention the last few weeks, but at the Trade Show, we were finally able to show it off!
The American times out perfectly with our 125th company anniversary next year. The American is the namesake of the very first cigar ever rolled at El Reloj, the name of our Tampa Factory. Originally rolled by the Regensburg family, The American has changed in it's construction. Though the name is the same, the new version of our cigar is rolled with 100% American tobacco, placed in American cellophane, and placed into an American-made box, fastened with American forged hinges. Absolutely everything about this cigar is American and boxes will finally be allocated at the end of July 2019, so be sure to look out for it at your local retailer.
The prize for our retailer on Day 3 (Monday) was sensational! The winner, Nice Ash Cigars, has secured a two-person invitation to visit our factory in 2020 when renovations are complete!
All three days, our amazing sales team, along with the sales team from many other manufacturers, were selling CRA Freedom Packs. The CRA has created Freedom Sampler featuring 10 super premium cigars from 10 amazing cigar companies. These packs are raising money to fund legislation and regulatory efforts to fight for your right to enjoy premium cigars. Each pack purchased goes directly to CRA litigators. These freedom packs are shipping in November! The 10 cigars included are:
J.C. Newman, Diamond Crown Black Diamond Emerald
Alec Bradley, Ltd. Mundial PL #56
Arturo Fuente, Fuente Fuente OpusX Limited Edition
Ashton, La Aroma de Cuba Noblesse Viceroy
La Flor, Dominicana TBD
My Father, Don Pepin Original Connecticut
Oliva, Oliva Serie V Melanio Figuardo
Padron, Padron Black No. 200
Rocky Patel, Rocky Patel 50th Anniversary Toro
Tatuaje, Tatuaje Fausto Limited SA
The IPCPR 2019 Trade Show in Review
A huge 'Thank you!' to everyone that came to visit our Arturo Fuente and J.C. Newman booth at the IPCPR Trade Show! We had a great time seeing you all there! 
As we gear up for the PCA (Formerly IPCPR) 2020 trade show, and our 125th anniversary, we will be releasing new cigars, new accessories, and even a brand-new Trade Show booth! We look forward to seeing you all next year!
He encouraged them to remember the continuum of risk, that we are an industry of small businesses, and that FDA should help businesses not just penalize them.
In celebration of the anniversary of the 1st cigar hand rolled in Tampa, J.C. Newman has recreated the original Sanchez y Haya cigars.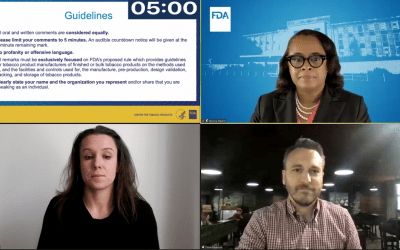 In celebration of the anniversary of the 1st cigar hand rolled in Tampa, J.C. Newman has recreated the original Sanchez y Haya cigars.